Dr. Jerome Corsi Amends Complaint Against Mueller to Include Jeff Bezos and His Washington Post
Demands Punitive Damages Against Bezos Alone in Excess of $800 Million Dollars And Total Damages Including Punitive Against All Defendants in Excess of $1.6 Billion Dollars
Amended Complaint Also Charges More Illegal Grand Jury Leaks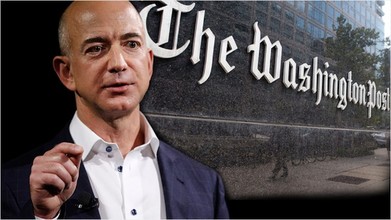 (Washington, D.C., January 22, 2019). Today, Larry Klayman, counsel for Dr. Jerome Corsi, announced that he has filed an Amended Complaint on his client's behalf against Special Counsel Robert Mueller, the Department of Justice and its FBI, intel agencies, Jeff Bezos, the owner and CEO of The Washington Post ("WaPo"), Bezos's WaPo reporter Manuel Roig-Franzia, all of whom are alleged to have acted and continue to act in concert to coerce, extort and blackmail Dr. Corsi into providing false testimony under oath to the Special Counsel with the design to indict and/or remove President Donald J. Trump from his duly elected office.
The Amended Complaint which is embedded below and can be viewed at
www.larryklayman.com
and
www.corsination.com
alleges unlawful violations of the Fourth Amendment, the USA Freedom Act, the Foreign Intelligence Surveillance Act, grand jury secrecy laws under the Federal Rules of Criminal Procedure, as well as tortious interference with business relations and defamation.
The collective damage claims of the Amended Complaint, which include a demand for punitive damages to prevent this illegal and unconstitutional conduct from again occurring by severely punishing the Defendants, exceed $1.6 Billion USD. The Amended Complaint also prays for preliminary and permanent injunctive relief to order a halt to these alleged illegalities.
This case,
Corsi v. Mueller
, Civil Action No. 1:18-cv-02885 in the U.S. District Court for the District of Columbia has been reassigned to the Honorable Ellen Segal Huvelle, having previously been assigned as a related case to the Honorable Richard J. Leon. Judge Leon declined to preside over the case, ruling incorrectly that it is not related to prior cases which Larry Klayman had filed against the Department of Justice, FBI and intel agencies for identical and illegal continuing unconstitutional surveillance. These cases,
Klayman v. Obama
1:13-cv-00851 and
Klayman v. Obama
, 1:13-cv-00881, successfully resulted in preliminary injunctions for violation of the Fourth Amendment.
Mr. Klayman had this to say on behalf of Dr. Corsi upon filing this Amended Complaint:
"There is a coordinated effort by the Defendants to indict and/or remove the president from office. Dr. Corsi, my brave client, has been coerced, threatened and blackmailed into providing false testimony which Special Counsel Mueller intended to use to accomplish this design. But rather than caving in to the threat to indict Dr. Corsi if he did not 'play ball' with the Special Counsel or be indicted himself, Dr. Corsi refused and would not accept a so-called 'sweet heart' plea deal, which would have allowed him to plead guilty to one count of perjury, a felony, with a recommendation for no prison time.
"Now, ratcheting up the coercion and blackmail, the Special Counsel in this coordinated effort with the new Defendants Jeff Bezos and his WaPo reporter Manuel Roig-Franzia, have 'upped the ante.' They too, along with Mueller and the other Defendants, will be held legally accountable for their despicable and illegal acts."
For more information, contact daj142182@gmail.com or (424) 274 2579.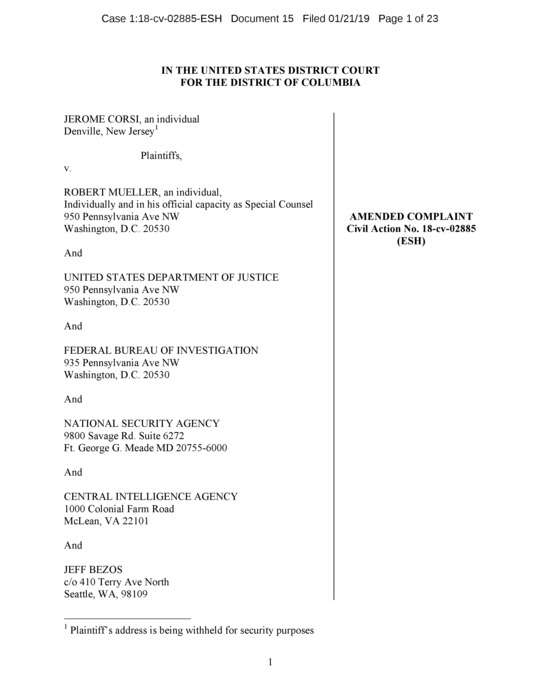 Click to View PDF