Roy Moore Stuck With Suing Sacha Baron Cohen in NY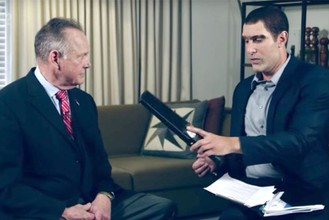 By Christopher Cole
Law360
June 7, 2019
Law360 (June 6, 2019, 6:58 PM EDT) -- Alabama politician Roy Moore can't pull a defamation suit against comedian Sacha Baron Cohen back to Washington, D.C., from New York because he waited too long to seek reconsideration of a transfer to the Big Apple, a federal judge has ruled.
Moore, a former Alabama Supreme Court chief justice whose failed 2017 Senate bid was punctuated by controversy over allegations he sought relationships with teens while in his 30s, is suing Cohen for defamation after Moore's appearance on Showtime's "Who Is America?" program months after the election.
Moore alleges that Cohen tarnished his character by making it seem like his presence tripped a fake pedophile-detecting wand. Moore and his wife filed suit in 2018 and tried repeatedly to get the case heard in Washington, where Moore says he can get a more fair hearing. Moore also sought recusal of U.S. District Judge Thomas F. Hogan, the D.C. federal judge who moved the case to New York, for alleged bias.
But Judge Hogan said Wednesday that Moore took one day too long to file for reconsideration of his
April decision
to transfer the case to New York. The D.C. court no longer has jurisdiction to decide any motions in the case, since it was electronically moved May 13, and Moore did not file papers asking him to revisit the ruling until May 14.
"As a result, the plaintiffs' own delinquency caused their motion to be filed too late for the court to exercise jurisdiction over it," the judge wrote.
He was also skeptical as to whether Moore has a valid basis to challenge his oversight of the case, but said it didn't matter since he can no longer rule on that anyway.
"Although the court has serious doubts about the merits of each of the plaintiffs' arguments, it must [forgo] addressing their shortcomings because it lacks jurisdiction to consider the motion for reconsideration," Judge Hogan wrote.
Moore and his wife, Kayla, accused Cohen, Showtime and its parent corporation CBS of defamation, fraud and infliction of emotional distress caused by the February 2018 interview, which aired that July. They
filed suit
in September, seeking $95 million.
Cohen on the show played Erran Morad, a fictional Israeli anti-terrorism expert, who introduced a fake device that he said the Israeli Army had created to detect pedophiles and which beeped when near Moore. The former judge soon walked off the set.
The show was recorded about two months after Moore, a Republican, lost a
U.S. Senate
special election in Alabama to Democrat Doug Jones.
After filing suit, Moore argued that even though a clause in his contract agreeing to appear on the show stipulated that any dispute will be litigated in New York, the alleged fraud arising from the interview gutted the clause.
But on April 29, Judge Hogan said case law has clearly established that even in an allegedly fraudulent contract, the "forum selection" clause still holds unless that specific provision resulted from fraud.
In his May 14 motion, Moore said the judge should reconsider the case transfer and also determine whether he should be recused for bias. Specifically, he mentioned a moment in the April hearing in which plaintiff's counsel introduced Moore as chief justice — and Judge Hogan asked whether Moore should be called a former jurist.
"Given the manner in which this court appeared to disrespect and disparage plaintiff Moore ... and then at the conclusion of the hearing read from an apparently pre-prepared order that was obviously penned even before the court heard oral argument, it would appear that the court not only prejudged defendants' motion to transfer, but also harbored extra-judicial bias," the motion said.
Cohen filed a response May 28, saying a move to reconsider a transfer must be denied if it takes place after the case files are moved. "But even if this court did have jurisdiction to hear plaintiffs' motion for reconsideration, the motion is patently meritless," he said.
Moore's lawyer Larry Klayman of Klayman Law Group PA told Law360 on Thursday that Moore will be taking up the transfer issue with the D.C. Circuit and the Southern District of New York.
"Judge Hogan's clearly wrong. He would not address the issues. In fact, he showed bias and prejudice in disparaging Judge Moore," Klayman said. "And he still does have jurisdiction, contrary to the dodge that he wrote in that order, because the file had not transferred yet when we filed the motion for reconsideration."
Legal counsel for the defendants did not immediately respond to a press inquiry Thursday.
Moore is represented by Larry Klayman of Klayman Law Group PA.
The defendants are represented by Elizabeth A. McNamara, Eric Feder, Lisa B. Zycherman and Rachel F. Strom of
Davis Wright Tremaine LLP
and Russell Smith and Jeff Holmes of
Smith Dehn LLP
.
The case is Moore et al. v. Cohen et al., case number
1:18-cv-02082
, in the U.S. District Court for the District of Columbia.