Ailes/Fox News Victim Laura Luhn Sues Showtime, Blumhouse Productions, and Gabriel Sherman Over Miniseries "Loudest Voice in the Room"
Suit Asks for In Excess of $750 Million Dollars in Damages and Injunctive Relief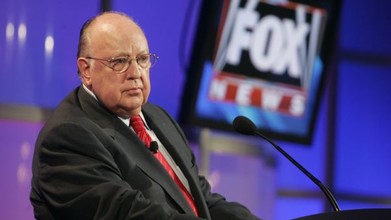 (Los Angeles, Ca., January 9, 2019). Today, Laura Luhn, a victim of the sexual, mental, highly destructive and tortuous abuse and mind control techniques by Roger Ailes and Fox News filed a lawsuit asking for over $750 million dollars in damages and preliminary and permanent injunctions against Showtime, Blumhouse Production (dba Blumhouse Television) and writer Gabriel Sherman for misappropriation of her likeness and being, as well as "life story," in the production of an eight-part miniseries, starring Russell Crowe as Roger Ailes and other prominent actors, titled "Loudest Voice in the Room."
Ms. Luhn, above all female victims of Roger Ailes, the former and now deceased CEO of the Fox News Channel ("Fox News"), was and remains the most damaged collectively by them. Compounding her severe injury as detailed in the Verified Complaint (embedded below) filed in the Superior Court of Los Angeles County, are the alleged facts, sworn to under oath, that the severe sexual harassment and psychological "gaslighting" and torture meted out by Ailes was covered up by his former "lieutenants" Bill Shine, now Deputy Chief of Staff of the White House, and the current CEO of Fox News Suzanne Scott, among others in Ailes' Fox News' inner circle.
As alleged in the Verified Complaint, Ms. Luhn's "experience" with Ailes and Fox News was so prominent that she occupies a central role in Defendants' miniseries, which is currently filming in Los Angeles. To this end, it is no coincidence that Ms. Luhn is being played by an A-List Actress Anabelle Wallis. But Ms. Luhn, who is not a public figure, is not being compensated for the use of her likeness and being, as is
legally required
. In this regard, on behalf of the Defendants, their law firm, Davis Wright Tremaine, arrogantly told Ms. Luhn to get lost when she tried to settle with them, not even agreeing to use her as a consultant to ensure that the miniseries was factually accurate. Previously, Defendant Sherman had written a defamatory article about Ms. Luhn, as alleged in the Verified Complaint, which he refused to correct.
Larry Klayman, a former federal prosecutor and founder of both Judicial Watch and Freedom Watch and Ms. Luhn's attorney, had this to say upon filing the Verified Complaint on her behalf:
"It is outrageous that Defendants would seek to profit from Ms. Luhn's tragic experience with Ailes and Fox News, yet heartlessly leave this defenseless, emotionally shattered and broken woman out in the cold! Showtime's, Blumhouse Production's and its writer Gabriel Sherman's cruelty is only exceeded by Ailes and Fox News themselves! This injustice will not be allowed to stand."
The Verified Complaint, which provides much more of the factual detail underlying this suit, is embedded below or go to
www.larryklayman.com
.
For more information, contact daj142182@gmail.com or (424) 274 2579.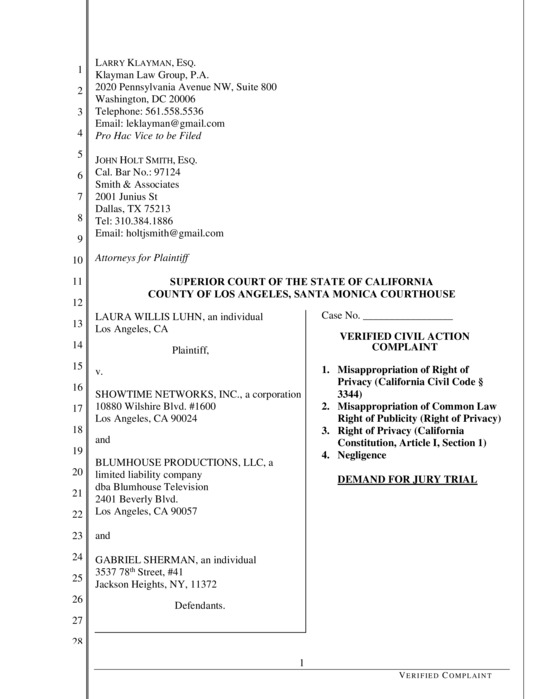 Click to View PDF