Arpaio immigration lawsuit faces immediate appeal in Ninth Circuit
Klayman press conference to follow May 31 Judge Snow hearing on courthouse steps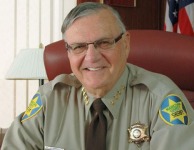 Hearing Set for 9 am in Federal Court in Phoenix
Contact: (424) 274 2579
daj142182@gmail.com


PHOENIX, ARIZONA (May 29, 2016)
– On Friday, in the
Melendres v. Arpaio
lawsuit against Sheriff Joseph Arpaio and the Maricopa County Sheriff's Office, an expedited appeal was ordered. Attorney Larry Klayman will appear at the May 31, 2016, hearing and will address the media at the Phoenix, Arizona, federal courthouse.
The appellate order from San Francisco will impact the May 31, 2016, contempt hearing. The appeal was filed by lawyer Larry Klayman for an innocent bystander and victim of Snow's unethical and unconstitutional misconduct, Dennis Montgomery.
The appeal should come as a warning to Judge G. Murray Snow to start respecting constitutional rights and due process within the case. The Ninth Circuit previously ordered Judge Snow on April 15, 2015, to stop enlarging the case into a general critique of Sheriff Arpaio's management of MCSO. Judge Snow has defied that order but now needs a further rebuke.
For over a year, Judge Snow has spread groundless criminal allegations against Montgomery and others while blocking him from exposing how they are false. Snow is using those falsehoods to concoct a case against Sheriff Arpaio. A year ago, Montgomery asked for his lawyer to be admitted
pro hac vice
and that he be allowed to intervene to respond to scurrilous allegations from the ACLU and Judge Snow.
On May 13, 2016, Judge Snow issued a 162 page order and findings of fact, including accusations against Montgomery of crimes. Montgomery worked on many different projects with MCSO, including a forensic analysis of Barack Obama's birth certificate. Yet Judge Snow believes conspiracy theories from a counter-culture newspaper that all of Montgomery's work was all about Judge Snow.
Melendres v. Arpaio
was filed in 2007 to halt enforcement of immigration laws and to establish amnesty for illegal aliens. It ended with a permanent injunction issued on October 2, 2013. But the ACLU has pushed for contempt of court findings against Sheriff Arpaio.
Ironically, the lawsuit claims to be about protecting constitutional and civil rights. Yet Judge Snow is violating the rights of Montgomery and others. The Ninth Circuit has been asked to protect those rights.
Sheriff Arpaio and MCSO admitted in January 2015 that they have been slow implementing the injunction and offered to accept a contempt finding. Judge Snow refused and wasted almost 18 months to reach the same conclusion, only to rule on completely unrelated matters to try to destroy Arpaio and anyone around him, like Montgomery.
Importantly, the judge's own wife previously revealed that Snow was out to destroy Arpaio, but he has unethically refused to recuse himself from the case after this was disclosed. Snow has never refuted this, because he cannot, given that independent witness confirm his wife's admissions. Therefore, it appears that Judge Snow decided in January 2015 to bring criminal charges and this entire proceeding has been about illegally destroying Arpaio and anyone in his wake.
The Ninth Circuit will now address these serious ethical and constitutional violations at its next calendar in case no. 15-16440, an appeal brought by Montgomery.