Klayman files brief in election case to prevent Florida and national Republican parties from not honoring the people's choice in March 15 presidential primary
Not About Trump But Instead Respecting and Honoring Democracy!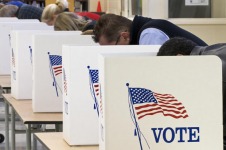 (Tallahassee, Florida, June 22, 2016). Today, Larry Klayman, a former Senate candidate himself in the Florida Republican primary in 2003-2004, and a former federal prosecutor and founder of Judicial Watch and now Freedom Watch, filed a brief opposing motions to dismiss by the Republican Party of Florida (RPF) and the Republican National Committee (RNC) in his lawsuit to have a court declare that the vote of the people in the March 15 Republican presidential primary must be respected and honored. In recent weeks, it has been forecast by many in the Republican establishment that they would seek to subvert his vote and in effect wage a "coup d'etat" at the upcoming RNC Convention in Cleveland, by having pledged delegates vote for someone other than who the citizens of Florida voted for in the Florida and other states' primaries.
Leading this effort appears to be Republican House Speaker Paul Ryan along with his establishment allies. They apparently are fearful that their power and money gravy train will dry up if a non-establishment candidate is nominated by the Republican Party for president. Former Florida Governor and presidential candidate Jeb Bush is reported to be among those seeking to "dump" Donald Trump. They would rather see Hillary Clinton as president than their own party nominee, since the two major political parties could then continue to divide up the spoils in Washington and an establishment Republican presidential nominee could run against Mrs. Clinton in 2020.
Klayman had this to say upon filing his opposition to the Republican establishment motions to dismiss in his private case, which is intended to set a judicial precedent among all of the 50 state Republican parties:
"Whether the court ultimately rules in my favor, my vote must be respected. Given the politicization of the judiciary, there is no certainty that I will ultimately prevail, but a Florida citizen and voter such as me had a duty to come forward to try to prevent the perverting of our electoral system and democracy. That the Republican establishment would talk openly and even boast about waging a coup to subvert the people's vote shows why Trump won the Florida primary and many other state primaries in the first place. This Republican establishment is dishonest and sleazy to the core and a disgrace to the nation our great Founding Fathers pledged their lives, sacred honor and fortunes to create.
"In a few weeks, we will celebrate the signing of the Declaration of Independence on or about July 4 at my birthplace of Philadelphia. If the likes of House Speaker Paul Ryan, Senate Majority Leader Mitch McConnell, Senator Lindsey Graham and those other Republican establishment hacks in government and the media, like radio talk show host and CNN commentator Hugh Hewitt, had lived during this historic error, that would not even have been allowed to sweep the floors of Independence Hall, but instead they would have been sent back to England and handed over to King George III so they could rightly become his court jesters.
"Let freedom ring this July 4 and from July 18-21 in Cleveland. While Cleveland has now finally after over 52 years become a winner, the undemocratic and talentless Republican establishment that is planning this coup of the people's will during the convention is no LeBron James.
"I am hopeful that this Republican establishment will now be the losers, banished to purgatory for many years to come, at least until they straighten out their act at center court in the same Quicken Arena in Cleveland that houses LeBron's Cavaliers.
"I have asked the Florida court for a quick ruling before the RNC convention to set a precedent not just in Florida but around the nation."
To view the complaint and the latest Klayman pleadings, go to
www.larryklayman.com
. For an interview, contact (424) 274-2579 or daj142182@gmail.com
View Documents
Opposition to defendants Republican National Committee and Reince Priebusís motion to dismiss complaint
Opposition to defendants the Republican Party of Florida and Blaise Ingoglia's motion to dismiss complaint