Racketeering complaint filed against Cleveland law firm Baker and Hostetler
Partners Alleged to Have Engaged in A Criminal Enterprise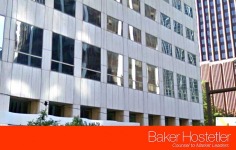 (Cleveland, Ohio, April 23, 2015). Today, Larry Klayman, a public interest lawyer and advocate, announced that he has filed a federal civil RICO complaint against the Cleveland law firm of Baker and Hostetler (hereafter "Baker") under the Racketeering Influenced and Corrupt Organizations Act. (Klayman v. Baker et. al, 9:15-CV-80310 (S. D. Florida).
The complaint alleges that partners Suzanne Jambe and Jamie Rollinson, along other others in the firm, engaged in a criminal enterprise during the last ten years to harm Klayman who had been fighting for custody of his children. In the course of this custody proceeding, Baker made outrageous and false allegations, now disproven, that Klayman had sexually abused his children. Baker also allegedly misappropriated confidential and financial records of Klayman through fraudulent means and committed other crimes. In this regard, on information and belief, the complaint also alleges that favors where provided to the family law magistrate, Lawrence Loeb, who presided over the case. All of this was allegedly designed to reap a large financial benefit to Baker, who had represented, and continues to represent, Klayman's ex-wife. These criminal acts have also alleged to have severely harmed Klayman's children.
Klayman had this to say about this case:
"I regret having to take this action, but even a law firm like Baker, the most 'powerful' law firm in Cleveland, and one of the largest nationally, is not above the law. Their partners and in particular Suzanne Jambe and Jamie Rollinson should not be allowed to escape the long arm of the law just because they sit in an ivory Cleveland Tower reaping large legal fees in exchange for – in this instance – destroying my family. The family law bar in Cleveland is a cesspool and it is time that someone stood up to these shysters who feed at the trough of children and their parents."
For more information, contact (424) 274-2579 or daj142182@gmail.com. The complaint can be viewed at
www.larryklayman.com
.

Attached: 150423-Filed deluca complaint.pdf