NBC, Andy Cohen and Others Sued for Alleged Malicious Defamation Concerning False Statements Broadcast On "The Real Housewives of New Jersey" And "Watch What Happens Live With Andy Cohen"
Larry Klayman Counsel for Jackie Beard Robinson, fashion influencer and consultant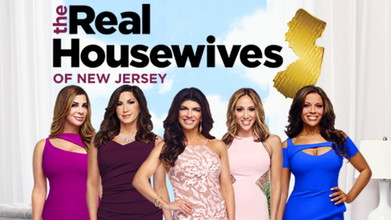 (December 7, 2017, Miami, FL) Larry Klayman, the founder of both Judicial Watch and now Freedom Watch, today filed suit in his private capacity as attorney for Jackie Beard Robinson, a fashion influencer and consultant who was allegedly maliciously defamed by NBC Universal, Andy Cohen, Melissa Gorga, and Dorothy Toran. The complaint, which was filed in the U.S. District Court for the Southern District of Florida, where Mrs. Robinson resides as a Florida citizen (Case No. 17-cv-24428), can be viewed at
www.larryklayman.com
, alleges that the defendants, acting in concert, maliciously defamed Ms. Robinson by publishing that she stole merchandise in the middle of the night from Envy, a store prominently featured on "The Real Housewives of New Jersey."
Under Florida law, the defendants, having acted in concert to allegedly defame Ms. Robinson, committed defamation per se, which does not require proof of damage, as damages are presumed. This is because allegedly defaming someone in his or her trade or profession while publishing that he or she committed a crime is the most serious offense in the realm of slander and libel.
Klayman had this to say upon filing the complaint on behalf of Ms. Robinson: "Over the course of the past year in particular, NBC has become synonymous with 'Fake News,' designed to gin up its ratings and profits. Along with the other defendants as alleged in the complaint, NBC will be held to the strictest standards of journalism by a jury of my client's peers. We are confident that it and the other defendants will pay dearly for destroying this talented woman in order to greedily fill their coffers."
For more information, please contact (424) 274-2579 or daj142182@gmail.com.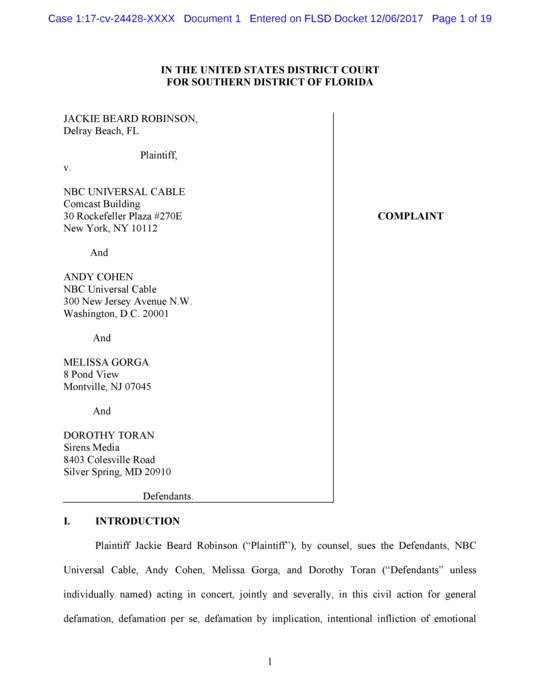 Click to View PDF