Judge Roy Moore Sues Sasha Baron Cohen, Showtime and CBS!
Complaint Alleges Defamation, Intentional Infliction of Emotional Distress and Fraud!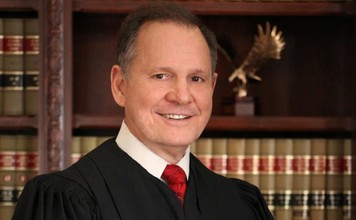 (Washington, D.C., September 5, 2018). Today, the former Chief Justice of the Alabama Supreme Court and U.S. Senate candidate Roy S. Moore brought suit before the U.S. District Court for the District of Columbia (Case No. 18-cv-02082) against Sasha Baron Cohen for allegedly defaming and defrauding the jurist by inducing him to travel to Washington, D.C., along with his wife Kayla, where Judge Moore was falsely led by Cohen to believe that he would be interviewed and receive an award for his staunch support of Israel. The occasion was to honor and commemorate the founding of the Jewish nation state on its 70th anniversary. Instead, Judge Moore was maliciously defamed and subjected, along with his wife, to intentional emotional distress, causing large damage to both of them.
Importantly, as alleged in the complaint Cohen falsely and fraudulently represented, in concert with Showtime and CBS, that the filming and airing of the show would be conducted by Yerushalayim TV — which does not actually exist. Instead of the real producer of the show, which is called "Who is America," was Showtime, owned by CBS.
During the subsequent interview by Cohen, where he falsely and fraudulently disguised himself as Erran Morad, a retired Mossad intelligence agent, Cohen is alleged to also have falsely and fraudulently mocked and cast Judge Moore as a pedophile. When the false, fraudulent and defamatory nature of the interview became apparent, Judge Moore terminated it.
Later, Judge Moore sent a notice to Cohen, Showtime and CBS demanding that the interview not be aired, or risk being sued. Cohen and his employers aired it anyway, thus giving rise to the complaint.
Judge Moore is being legally represented by Larry Klayman, the founder of both Judicial Watch and now Freedom Watch and a former federal prosecutor of the U.S. Department of Justice. Klayman is representing Judge Moore in his private capacity. He had his to say upon filing of the complaint:
"Judge Moore, a man of great faith, morality and intellect, is one of the finest people I have ever known. Sasha Baron Cohen, who is not only low class but also a fraudster, will now, along with Showtime and CBS, be held accountable for his outrageous and false, fraudulent and defamatory conduct which callously did great emotional and other damage to his great man and his wife and family."
A copy of the complaint can be found at
www.larryklayman.com
and is also embedded below. For more information contact daj142182@gmail.com or (424) 274 2579.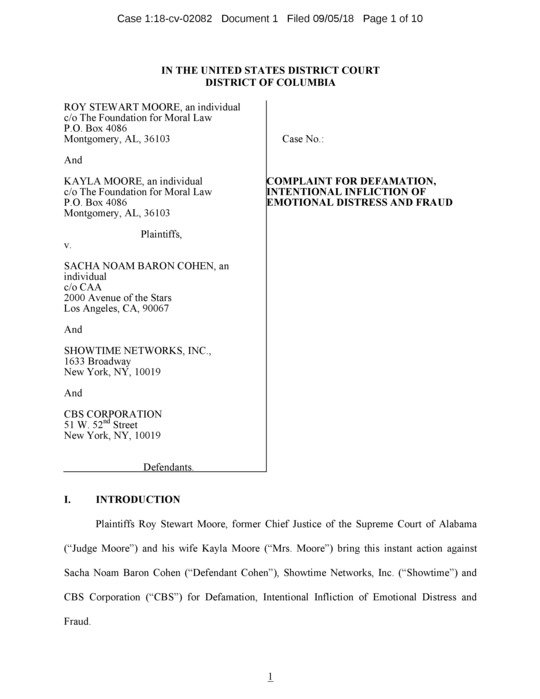 Click to View PDF