Patrick Reed Sues Shane Ryan, Hachette, New York Post, Fox Sports, Doug Ferguson and the AP for Defamation, Injurious Falsehood and Tortious Interference
Defendants Are Co-Conspirators with the PGA Tour, NBC's Golf Channel, Brandel Chamblee, Damon Hack, Shane Bacon, Eamon Lynch, Golf Week, Gannett and Other "Haters" To Harm Reed, His Family and Colleagues
(November 1, 2022 Jacksonville, Florida) Today, Patrick Reed, professional golfer, recent LIV Golf Champion and current member of LIV Golf and DP World Tour brought suit for defamation, injurious falsehood, and tortious interference over malicious false publications, all of which were designed to severely harm Mr. Reed, his family and colleagues personally and professionally. Mr. Reed is a former member of the PGA Tour, Masters Champion, among many other victories, accolades, and awards by the young age of 32.
The Defendants joined in this lawsuit, brought in the U.S. District Court for the Middle District of Florida (Jacksonville Division),
Reed v. Ryan et. al, Civil Action No. Case 3:22-cv-01181 (M.D. Fl.),
are alleged to have conspired with the PGA Tour, which fears competition from LIV Golf, of which Mr. Reed is a prominent player. See
Reed v. Ryan et. al, Civil Action No. Case 3:22-cv-01181 (M.D. Fl.). This complaint is embedded below.
One of the earliest and perhaps the most hateful and unhinged of the defendants to defame, falsely injure and tortiously interfere with Mr. Reed, his family, and his colleagues is Shane Ryan, who wrote a book, "Slaying the Tiger: A Year Inside the Ropes on the New PGA Tour," and in his newly released book, "The Cup They Couldn't Lose: America, The Ryder Cup, and The Long Road to Whistling Straits," compounds and republishes the false and very damaging attacks.
In the Complaint, Shane Ryan is alleged to be pathologically obsessed with harming Mr. Reed and his family and colleagues, and given his well-known incestuous relationship with those on the PGA Tour, his latest book is part and parcel to the deluge of defamatory statements that have been published not just by the Defendants in this case, but also regurgitated with actual malice by Brandel Chamblee, Damon Hack, Shane Bacon and Eamon Lynch, commentators on NBC's Golf Channel, which according to PGA Commissioner Jay Monahan is the PGA Tour's partner. Chamblee, and the others are defendants in a related suit styled Reed v. Chamblee, also filed in federal court in Jacksonville, Florida.
See Reed vs. Chamblee, et. al, Civil Action No. — 3:22-cv-01059 (M.D. Fl.)
.
While this latest Complaint speaks for itself, and can be found at
www.larryklayman.com
, Mr. Reed's legal counsel, Larry Klayman, had this to say upon filing suit on his behalf:
"My client, his family and colleagues have been made the whipping boy of cheap and dishonest journalists in the golf media, like Shane Ryan, who feed at the trough of the PGA Tour, a tour that historically mistreated Mr. Reed. Indeed, my client's move to LIV Golf was primarily due to this mistreatment, where adequate security was not even provided at PGA Tour events, where hostile fans vilified and threatened Mr. Reed, his wife, caddie, and coach, thanks to the rank defamation and other alleged illegal acts of Defendants in these two recently filed lawsuits."
"Mr. Reed, on behalf of himself, his family, and colleagues, simply will not take it anymore and he is fighting back in the courts to not just redeem his rightful reputation for honesty and superior golf achievements and successes, but also to protect his loved ones from the likes of Shane Ryan, Doug Ferguson and the rest of the jackals who make their sorry and pathetic living spreading lies and false information about him. These types of journalists, publishers and networks give the good ones a bad name, by publishing and broadcasting false information to the masses for their own financial gain to generate readers, viewership, clicks, and for no other reason than to use Mr. Reed callously and cruelly as a tool to make money, no matter how harmful it has been or will be to his career, his family, colleagues and his life."
"Let it be known that anyone who emulates Shane Ryan and the other defendants in these two lawsuits, in order to make a cheap profit and harm Mr. Reed, his family and colleagues, will be held accountable under the letter of the law."
For more information contact Asher Anderson at Asher.andersonfw@gmail.com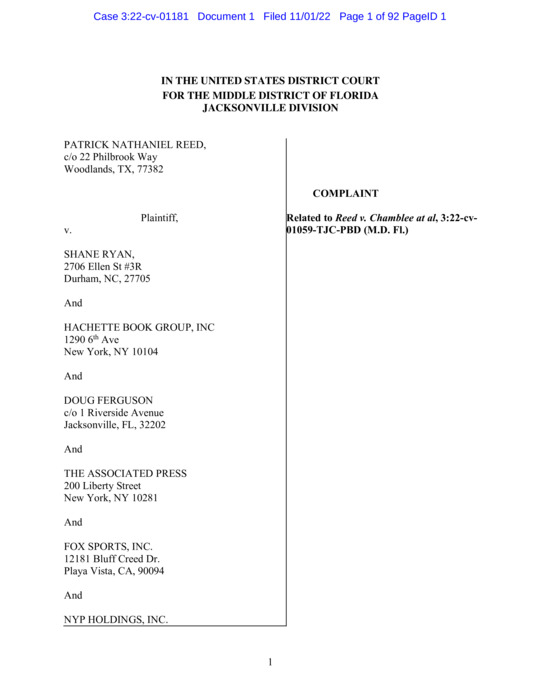 Click to View PDF