PROFESSIONAL GOLFER PATRICK REED MOVES TO RECUSE JUDGE AND SET ASIDE DISMISSALS IN DEFAMATION CASES
(Jacksonsville, Florida, October 23, 2023). Today, Patrick Reed, a Masters Champion, two time Olympian, Ryder Cup hero and nine time PGA Tour winner, among many other successes and one of the top professional golfers on the LIV Golf Tour, filed motions before the Honorable Timothy J. Corrigan, Chief Judge of the U.S. District Court for the Middle District of Florida, to disqualify the jurist over his biased conduct in dismissing fifty-five (55) defamatory publications made by the likes of Brandel Chamblee, Eamon Lynch, Shane Ryan, Shane Bacon, Damon Hack, Doug Ferguson and others in the coopted pro-PGA Tour golf media who have severely harmed Mr. Reed, his family and his team, all in an effort to also damage LIV Golf. The cases at issue are Reed v. Chamblee et. al, 3:22-cv-01059 -TJC-PDB (M.D. Fl.) and Reed v. Ryan et. al, 3:22-cv-01181-TJC-PDB (M.D. Fl.)
The motion to disqualify Judge Corrigan is based on an extreme prejudged mindset to deep six these cases, by wrongfully taking away from the jury the right to determine whether Mr. Reed had been defamed. Among the defamatory statements were attacks on Mr. Reed as a habitual cheater when in fact he has never been found to have cheated, as well as his playing professional golf on the LIV Golf Tour, where he and other top LIV players have been branded and smeared as murderers, takers of blood money, terrorist sympathizers and being employed by the likes of Hitler, Stalin, Mao and Putin, when in reality he simply plays professional golf on a tour financed by the Saudi Public Investment Fund.
In this regard, scores of American companies and interests are so financed, with companies such as Apple, Boeing, Disney and others benefitting from Saudi investment, as does the LPGA women's tour. In his zeal to dismiss all fifty-five (55) defamatory publications, a factual and legal impossibility, Judge Corrigan refused to allow the jury to make any determination and unlawfully arrogated to himself these determinations across the board. He did so based on a prejudicial bias against Mr. Reed and LIV Golf in favor the PGA Tour and its hateful and dishonest yes men such as Chamblee, Lynch, Ryan and Ferguson, who set out upon the conception of LIV Golf to destroy it and its top players such as Mr. Reed.
The motions to recuse Judge Corrigan and to have the case assigned to another jurist to review and correct the biased findings and allow these cases to proceed are embedded below and can also be viewed at
www.larryklayman.com.
Larry Klayman, Esq., legal counsel for Mr. Reed, had this to say upon filing the motions: "It goes without saying that for Judge Corrigan to take it upon himself to dismiss all fifty-five (55) defamatory statements without even allowing the jury to rule on even one of them, something was terribly wrong. This can only be the result of bias and prejudice. As shown in the detailed motions his factual and legal reasoning was so off base and wrong, and his administration of the cases so one sided and prejudicial, that any reasonable person would have to reach this conclusion.
Based on the motions, Judge Corrigan must now recuse himself and assign the cases to another jurist in the Middle District to reconsider, set aside the dismissals and allow these cases to proceed, so justice can now be done in an unbiased and fair manner, as my client, his family and team have been severely harmed by the coopted pro-PGA Tour dishonest jackals in the fake news golf media" who sought to destroy Mr. Reed for ratings, clicks and profit, causing him huge financial damage, emotional distress and loss of reputation and good will.
For more information contact Asher Anderson at Asher.andersonfw@gmail.com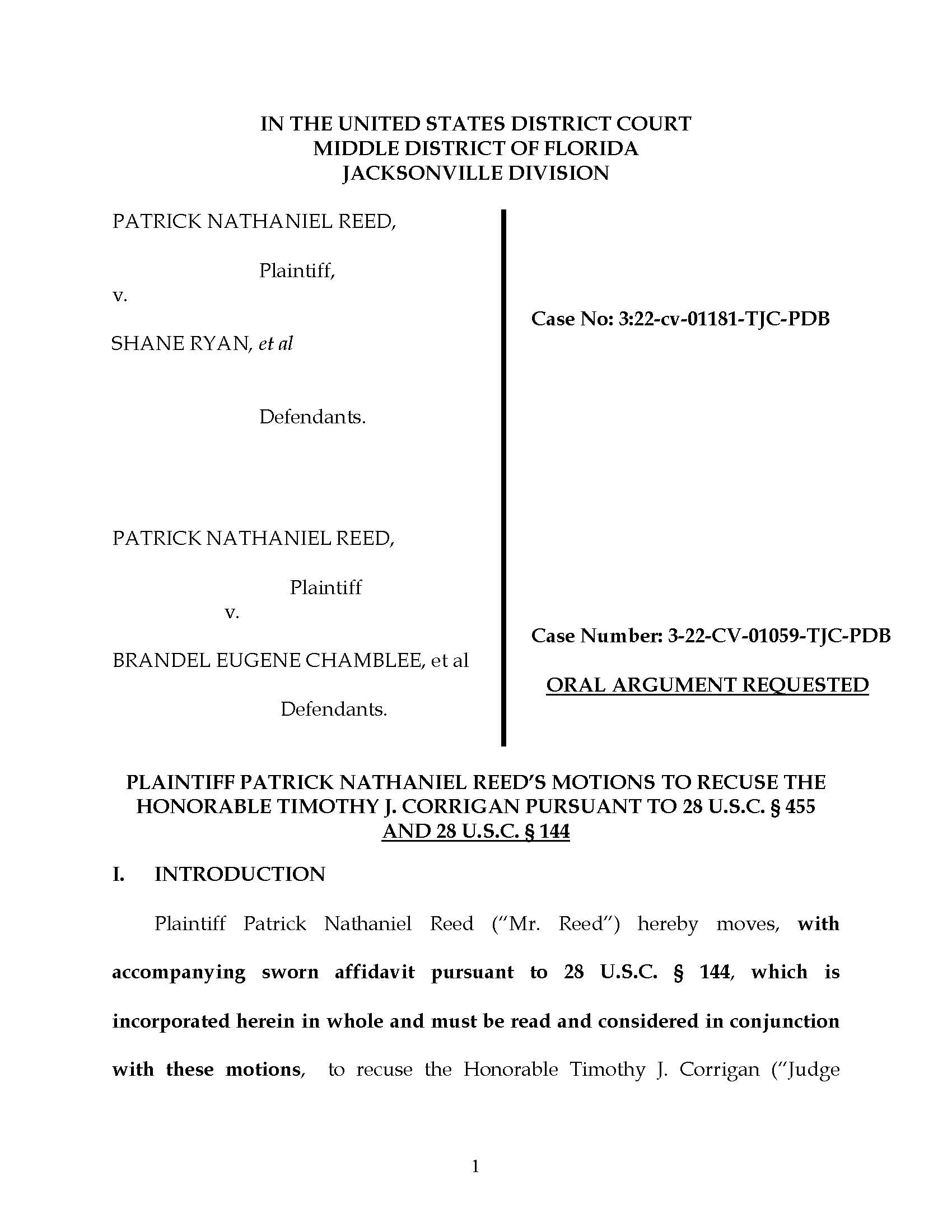 Click to View PDF
Click to View PDF