Sacha Baron Cohen Gets Roy Moore Suit Moved to NY
Klayman: Judge Moore and I Will Appeal This Flawed Ruling and Will Ultimately Hold the Low Class Sasha Baron Cohen to Account for His Malicious Defamation Whatever Court Hears the Case!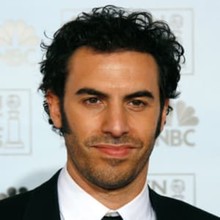 By Christopher Cole
Law360
April 30, 2019
Law360 (April 29, 2019, 4:59 PM EDT) -- Onetime Senate candidate Roy Moore will have to argue his defamation suit against comedian Sacha Baron Cohen in New York, a Washington, D.C., federal judge ruled Monday, although the former Alabama chief justice thinks he will get a more hostile reception there.
Moore, who slapped Cohen and his network Showtime with a $95 million suit in 2018 over a satirical "Who Is America?" interview during which it seemed like the judge set off a supposedly pedophile-detecting wand, had argued that instead of a "left-leaning" Manhattan courtroom, the suit should be heard in D.C., where the incident took place.
While a clause in Moore's contract agreeing to appear on the show stipulates that any dispute will be litigated in New York, Moore's lawyer had argued that clause was invalidated by the alleged fraud surrounding the entire sham interview.
But U.S. District Judge Thomas F. Hogan said "it's very clearly established" in case law that even in an allegedly fraudulent contract, the "forum selection" clause still holds unless that specific provision resulted from fraud.
"I can't see that in the arguments before me," Judge Hogan said. "There's no reason it has to be tried here that I can find."
In September 2018, Moore and his wife, Kayla,
accused
Cohen, Showtime and its parent corporation CBS of defamation, fraud and infliction of emotional distress caused by the February 2018 interview, which aired that July. In the segment, Cohen, incognito as fictional Israeli anti-terrorism expert Erran Morad, introduced a fake device that he said the Israeli Army had created to detect pedophiles and which beeped when in Moore's vicinity, after which Moore walked off the set.
The incident occurred about two months after Moore, a Republican, narrowly lost a Senate special election in Alabama to Democrat Doug Jones after several women claimed that Moore had made sexual advances on them when they were teens.
According to Moore's attorney, Larry Klayman of Klayman Law Group PA, Showtime decided to air the segment even when faced with a threatened lawsuit. He urged the judge to keep the suit in D.C. even if precedent requires a burden on Moore to show why the venue should not be changed based on the contract stipulation. "This is that exception or unusual case," he said.
Klayman argued that "egregious fraud, compounded fraud" had wiped out the entire agreement, and that includes the provision about where to try a dispute.
But Judge Hogan asked him for reasons why the Southern District of New York was not an acceptable venue. "What evidence do I have that there would be a left-leaning judge favorable to the entertainment industry?"
Klayman contended that the network believes that in New York it will undoubtedly get a friendlier hearing of the case despite its clear liability. "It's their home court. It's where they want to be," and that's why it's written into the contract that way, he said.
"The facts of this case are particularly egregious," Klayman said, and referring to the suit's allegations of emotional distress, added that "people have been known to jump off buildings when accused of this."
Elizabeth McNamara of
Davis Wright Tremaine LLP
, representing Cohen and the network, cited case law that she said created a high bar for throwing out a venue agreement. "The forum selection clause stands alone even if the contract fails," she said.
On top of agreeing on the case law, Judge Hogan said that with the defendants in New York and California, he saw no merit to arguments that the trial should occur in Washington just because there are witnesses who saw the interview take place there. "That's the only connection to D.C.," he said.
Moore is represented by Larry Klayman of Klayman Law Group PA.
The defendants are represented by Elizabeth A. McNamara, Eric Feder, Lisa B. Zycherman and Rachel F. Strom of Davis Wright Tremaine LLP.
The case is Moore et al. v. Cohen et al., case number
1:18-cv-02082
, in the U.S. District Court for the District of Columbia.
--Additional reporting by Dave Simpson. Editing by Jay Jackson Jr.