Media Advisory
DC Federal Court Hearing in Corsi vs. Mueller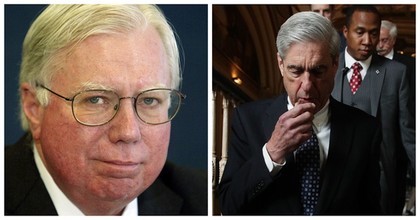 Date and Time : October 2, 2019 at 2:30 P.M.
Place: Courtroom 23A of the Honorable Ellen Segal Huvelle
U.S. District Court for the District of Columbia
333 Constitution Ave., N.W.
Washington, D.C. 20001
Press Conference with Dr. Jerome Corsi to Be Held at 3rd Street Exit Following Hearing
(Washington, D.C. October 1, 2018). Today, Larry Klayman, the founder of both Freedom Watch and Judicial Watch and a former federal prosecutor and trial attorney of 42 years' experience announced that the Honorable Ellen Segal Huvelle will hold a hearing on the motion by Special Counsel Robert Mueller to dismiss the lawsuit which he filed for his client Dr. Jerome Corsi for alleged illegal criminal grand jury leaks, the suborning of perjury to attempt to force Dr. Corsi to testify against the president under threat of indictment and illegal surveillance.
Dr. Corsi, who Mr. Klayman successfully represented to prevent his indictment, was coerced by Mueller and his staff to lie under oath in order to implicate the president in the so-called Russian collusion investigation, or otherwise be indicted for perjury. To the contrary, it was the Special Counsel who was attempting to suborn perjury, illegally.
Mr. Klayman had this to say on behalf of his client Dr. Corsi on the eve of this important hearing:
"Dr. Jerome Corsi on behalf of himself and all Americans has brought this suit to seek justice for the illegal actions of Special Counsel Robert Mueller and his prosecutorial staff, who knew no bounds in their zeal to harm and take down the President of the United States, attempting to use Corsi as their pawn. But my client, thanks to his integrity and patriotism, would not play along and in the end was exonerated. Now he seeks to affirm his God-given rights to have a jury of his peers decide the legal fate of Robert Mueller, particularly since the politicized U.S. Department of Justice (DOJ) under Attorney General Bill Barr has generally abdicated its responsibility. As just one recent example, Barr has recently failed to indict former FBI Director James Comey despite two criminal referrals by DOJ's Inspector General.
"If this case proceeds past the motion to dismiss stage, and there are sound factual and legal grounds for this to occur as will be argued this Wednesday in open court, Mueller and his prosecutorial staff will be subject to discovery and likely eventual trial. Let the truth prevail and let freedom ring!"
For more information or an interview contact daj142182@gmail.com or (424) 274 2579 and to view the Amended Complaint against Mueller and the other defendants go to
www.larryklayman.com
.