Media Advisory
Judge Roy Moore Defamation Case vs. Sasha Baron Cohen to Be Heard by 2nd Circuit on Friday June 10, 2022 in New York Federal Court
Place: U.S. Court of Appeals for the Second Circuit
Thurgood Marshall U.S. Courthouse, 17th Floor
40 Foley Square, New York, New York 10007
Time: 10:00 A.M. Eastern
Date: June 10, 2022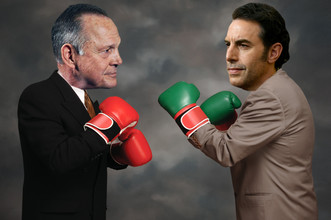 (June 9, 2022) The U.S. Court of Appeals for the Second Circuit will hear the appeal of former Chief Justice of the Alabama Supreme Court and U.S. Senate candidate, Roy Moore, and his wife Kayla, over the dismissal by the lower court of their defamation suit brought against Sasha Baron Cohen, Showtime and CBS, over having been falsely branded by him as a pedophile on the show "This is America." The caption of the case is Moore et. al v. Cohen et. al, Case No. 21-1701

Representing Chief Justice Moore and his wife Kayla are Larry Klayman, Esq., the founder of Judicial Watch and Freedom Watch, and Alabama lawyer Melissa Isaak.

For more information on how to attend the hearing or watch it on Zoom go to the court's website or contact Asher Anderson, Executive Assistant to Larry Klayman, at Asher.andersonfw@gmail.com or telephone (424) 335-5646.